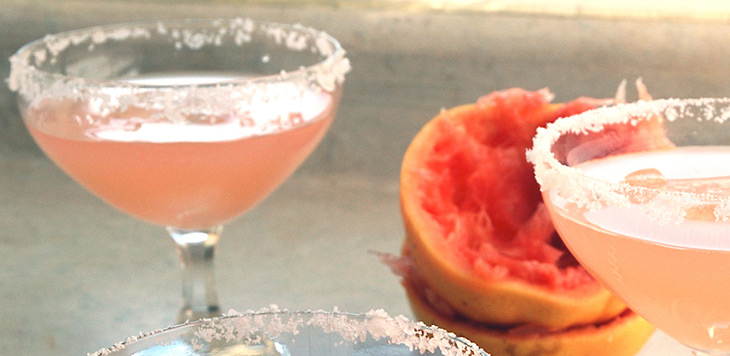 Image courtesy of Brianne Du Clos
The Salty Dog Cocktail
Officially it should be a tall glass but dogs easily knock over tall glasses so we prefer short ones.
Take a piece of lime and use it to wet the rim of a glass.
Pour a thin layer of salt into your (clean) dog bowl, preferably kosher salt.
Rub the rim of the glass in the salt and carefully shake off any extra.
Squeeze some grapefruit juice (depends on the size of your fruit, but we find one large fruit will do about one drink. Of course, there's nothing wrong with having enough for two drinks!)
Measure your juice. For every 100ml of juice, add 50ml of gin – for American dogs, that means 4oz juice to 2oz of gin. Of course, you can just eyeball it too. Dogs aren't known for precision.
We like to add a squeeze of lime for a little extra bark.
Pour your drink into your glass over ice if you like.
Salty Puppies
Every puppy wants to be like its parent dog. For a salty puppy, we've found the kids prefer sugar to salt on the rim of the glass.
Squeeze fresh grapefruit juice but measure out 200ml of soda water for every 100ml of juice – that would be 8oz of soda water to 4oz of grapefruit juice.
Leave out the gin!
Add a generous squeeze of lime. More water reduces the sugar content so your puppies aren't bouncing off the walls and a longer drink means you don't have to refill the glass so often.
Pour over crushed ice.